Meetings With The Astronauts and Cosmonauts - A Picture Gallery
Russia Trip, April 2003
Moscow - Samara - Baikonur

Star City
Baikonur
Kremlin, Moscow
MAI, Moscow
Control Center, Korolev

---

Yuri Gagarin Cosmonaut Training Center, Star City
Russia, April 23, 2003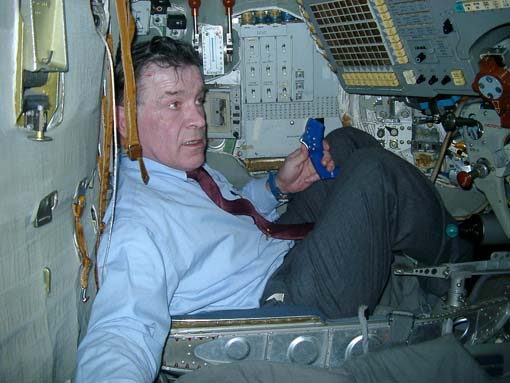 Cosmonaut Alexander Serebrov (Soyuz T-7/Salyut 7/Soyuz T-5, Soyuz T-8/Salyut 7, Soyuz TM-8/MIR, Soyuz TM-17/MIR)
was our guide in Star City. Here he is sitting in the Sojuz-TM training module.
(photo: Klaus-Rainer Krause)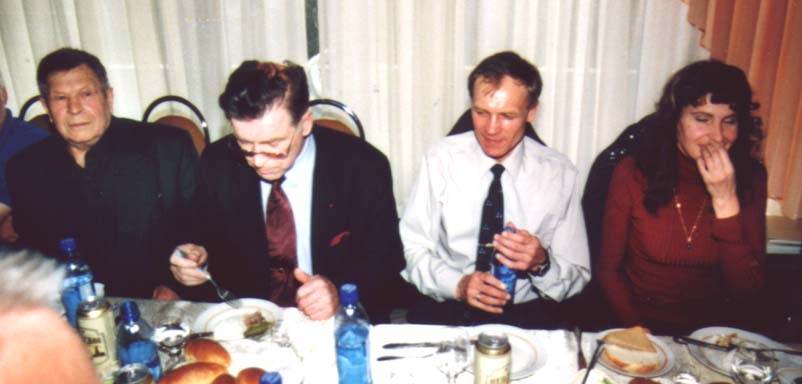 Evening diner in Star City.
Left to right: Cosmonaut Pyotr Kolodin (unflown), Cosmonaut Alexander Serebrov,
Cosmonaut Sergey Avdeev (Soyuz TM-15/MIR, Soyuz TM-22/MIR, Soyuz TM-28/MIR/Soyuz TM-29), and his wife Marina.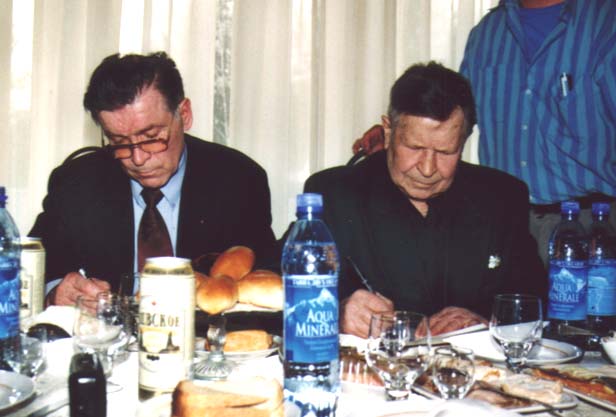 Autograph wishes have been fulfilled.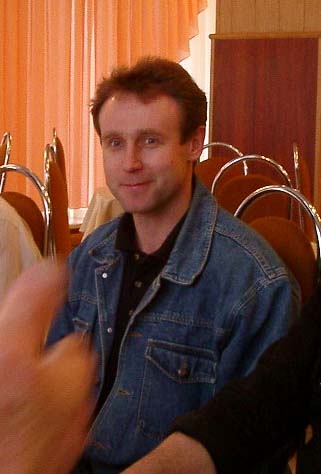 Cosmonaut Sergey Zalyotin (Soyuz TM-30/MIR, Soyuz TMA-1/ISS/Soyuz TM-34) was shortly there too.
(photo: Klaus-Rainer Krause)
---

Krainiy Airport, Baikonur, Kazakhstan,
April 26, 2003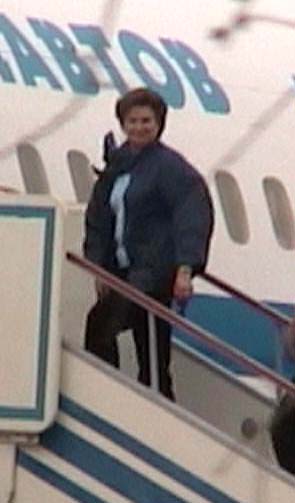 We saw cosmonaut Valentina Tereshkova (Vostok-6), first woman in space, at Baikonurs airport Krainiy, when she went into the plane for the return flight to Moscow.
Yuri Koptev, head of the russian space agency, was also there.
---

Kremlin, Moscow
Russia, April 27, 2003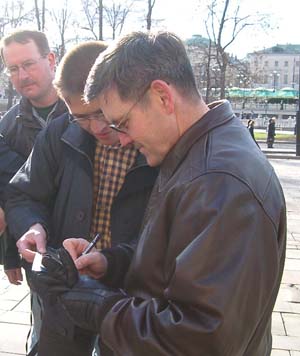 One of our group spotted US astronaut Bob Cabana (STS-41, STS-53, STS-65, STS-88/ISS) near the Kremlin in Moscow.
He was quite surprised to be asked for an autograph at this location.
(photo: Klaus-Rainer Krause)
---

Moscow Aviation Institute MAI, Moscow
Russia, April 28, 2003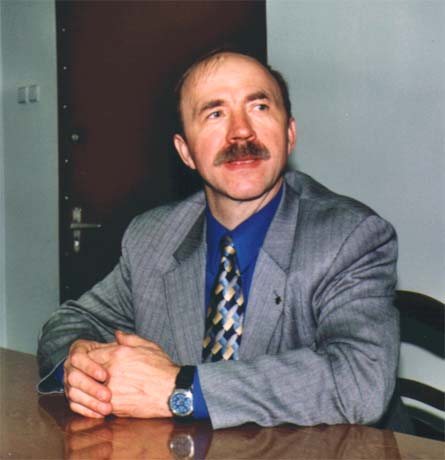 Cosmonaut Alexander Poleshchuk (Soyuz TM-16/MIR) gave us a lecture about his work at the Moscow Aviation Institute,
and signed many photos and books.
---

Russian Mission Control Center TsUP, Korolev
Russia, April 29, 2003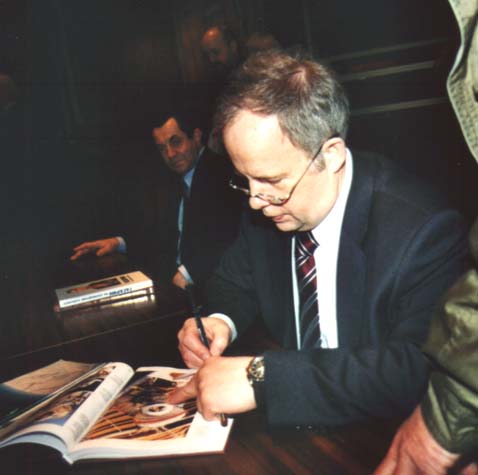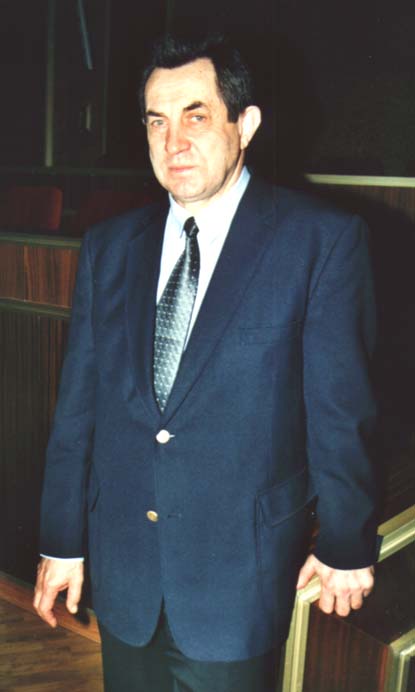 In the ISS control room of the mission control center we met the cosmonauts
Anatoli Solovyov (left; Soyuz-TM5, Soyuz-TM9/MIR, Soyuz-TM15/MIR, STS-71/MIR, Soyuz-TM26/MIR)
and Alexander Ivanchenkov (Soyuz 29/Salyut 6, Soyuz T-6/Salyut 7).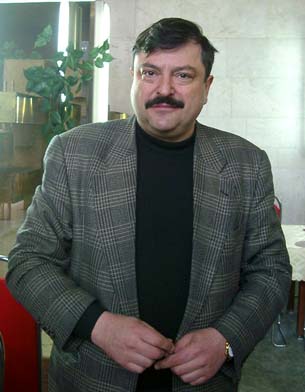 In the cafeteria of the mission control center we met cosmonaut Musa Manarov (Soyuz TM-4/MIR, Soyuz TM-11/MIR).
Before he could satisfy his hunger, he had to sign about 40 autographs...
(photo: Klaus-Rainer Krause)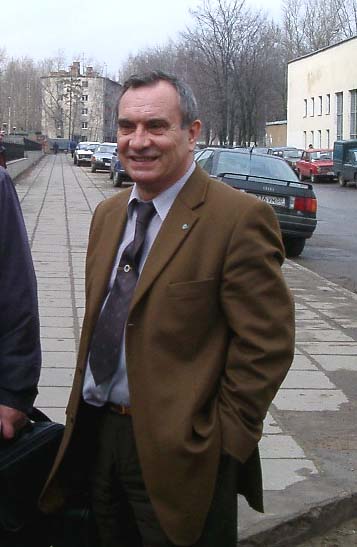 In front of the mission control center we ran into record cosmonaut Valeri Polyakov (Soyuz TM-6/MIR/Soyuz TM-5, Soyuz TM-18/MIR/Soyuz TM-20).
(photo: Klaus-Rainer Krause)
---
Updated: 2003/12/27